La traducción de esta página no está completa aún. Hasta que esté, las partes sin terminar vienen en su inglés original.
Screen
Deskbar:
Ubicación:

/boot/system/preferences/Screen

Configuración:

~/config/settings/system/app_server/workspaces




~/config/settings/kernel/drivers/vesa

- Sólo cuando se corre en modo VESA.


~/config/settings/Screen_data

- Almacena la posición de la ventana del panel.
Each of your workspaces can have its own resolution, color depth and refresh rate.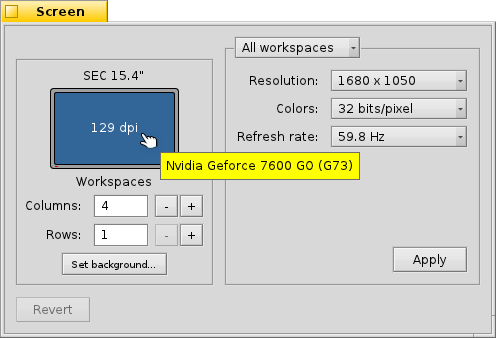 The top menu specifies if your changes are applied only to the current or to all workspaces. Depending on your graphics card, the other menus contain all supported resolution, color depth and refresh rate settings.
Tras dar clic en Apply (aplicar), el modo de gráficos se cambia y aparecerá un alerta, pidiéndole mantener o cancelar los cambios. Si no contesta esa alerta, el modo de gráficos se revertirá tras 12 segundos a la selección previa. Tal vez no se podría ver la alerta porque su monitor no soportara la selección.
A la izquierda, puede seleccionarse el número de espacios de trabajo y arreglarlos en columnas y filas y abrir el cuadro de diálogo Backgrounds (fondos de pantalla).
Revert (Revertir) regresa la selección que estaba activa cuando se inició el panel de preferencias Screen (pantalla).
While Haiku's VESA mode performs very well, you may experience some limitations. You may not be able to drive your widescreen display in its native resolution, resulting in a somewhat blurred picture. There may also be limitations with regard to available color depths and refresh rates.
To the bottom left you can set the number of workspaces and arrange them in columns and rows and open the Backgrounds preferences.