LinuxWorld 2008 as I saw it
I have done a good number of shows in my life, but for this particular one, I did not have a good point of reference to tell how this year's attendance compared to that of previous years. During the two days that I was at LinuxWorld, my gut feeling was that traffic was not as high as it could be. I later heard from a reliable source that close to 8K people had registered this year, and that about half of that actually attended, so that more or less confirmed my impressions. Urias also heard that attendance could have been affected by the BlackHat event, which took place the same week. In a way, the lower attendance could have been considered a blessing at times; I can see how we could have been overwhelmed had the show had twice the number of visitors.
In spite of the apparent lower turnout compared to previous years, LinuxWorld was still great in my opinion. Not only did we put Haiku in front of many eyes, but we also met a few very interesting people. One such interesting individual was David Liu, founder and CEO of gOS. I had a short chat with him at their booth, and he then came over to our booth for a quick look at Haiku. At their booth, they were showcasing their Ubuntu-based gOS on a good number of small form factor netbooks, including the ASUS Eee and many others (some of which were not even released products). gOS packages open source software stacks for hardware manufacturers for use in products geared towards the consumer market, and who knows, Haiku may be of future interest to them as they tend to have a focus on small form factor devices where Haiku could potentially shine and offer a compelling differentiation factor and cost/performance advantage. For those interested gOS, Linux.com has a a very interesting video interview with David that was recorded at LinuxWorld.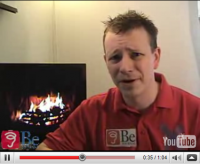 Shawn Powers of Linux JournalAt LinuxWorld, I made my usual attempt to connect with representatives of the media, and had the chance to meet with Ryan Paul from arsTechnica, Phil Keys of Nikkei Electronics TechOn, and LINUX Pro Magazine managing editor Rikki Kite, among others. We also spoke with the BeOS Journal, err, I mean the LINUX Journal folks, who were across the aisle from our booth, and discussed with the the possibility of a future focus shift to "The Haiku Journal" (just kidding). There has been no major post-conference coverage about Haiku this time (like we had after SCaLE 2008, for example); but it is still good to maintain existing relationships and build new ones where possible for the future, particularly now that we are getting so close to our first official Haiku (alpha) release.
Interestingly, we happened to be neighbors with TheLinuxFund.org booth. I had met one of the founding Directors, Scott Rainey, twice in the past (at SCaLE 2007 and 2008), where we had brief discussions about the possibility of obtaining funding for Haiku. In spite of the name, TheLinuxFund.org supports open source projects in general, even if they are not directly related to Linux; so Haiku could be a potential beneficiary. Scott came to LinuxWorld on the second day, and we digged a bit more into what we needed to do to request funding. There is nothing concrete at this time, but we will try to work on this funding venue as time permits. If you would like to help the TheLinuxFund.org and open source in general, consider getting a credit card from them (available in the US and in Canada); the Linux Fund gets a donation each time you use the card.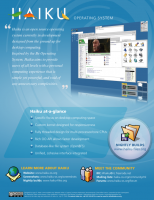 Redesigned Haiku flier used at LinuxWorld 2008For LinuxWorld I put together a redesigned Haiku flier. Prior to the show, we were contacted by Rich Koshiba, a BeOS and now Haiku enthusiast who runs a printing business, and we were offered a free booth sign; we ended up receiving three signs, one big and two small ones, which we use on the booth backwall and on the sides of the table counter, respectively (see photo here), plus Rich was also kind enough to print and ship to us 1,000 fliers in full color at a very competitive price. Thanks to his generosity, we were able to hand out high quality printed literature instead of photocopies of lower quality. Rich, thanks a lot; your contribution helped make a difference. And this reminds me: I really need to clean up all the literature artwork that I have created in the last couple of years for Haiku, and release it on the website...
All in all, LinuxWorld was both worth the time and a lot of fun. I think Urias, Scott and myself make a good team, and I believe we represented Haiku quite well at this big event. Urias does deserve a lot of the credit here, though, as he was the one who picked up the initiative when I had to drop out due to lack of time a couple of months ago, and the person who invested most time and effort to make things happen. Thanks Urias! Oh, and if you have not watched it yet, go check out this videocast where Urias is being interviewed at LinuxWorld.
Last but not least, a big THANK YOU to Jean-Louis Gassée for showing his support by visiting our booth. Too bad I could not be there to shake hands with him, but I am sure there will be a next time.