Haiku at SCaLE 2009: the Report
This year I used totally different gear to demo Haiku. The two machines that I had used to demo Haiku at various event since 2007 -- an HP Pavilion zv5400 and my old little Shuttle cube PC with an old AMD processor -- suffered slow deaths recently. In their place I used an Acer Aspire One that I had bought to replace my laptop (and which luckily enough ran Haiku quite well, including video, wired network and HDA sound), and a Shuttle K45 cube PC with an Intel Core 2 processor running at 2.2GHz; I run the netbook standalone, and hooked the PC to the projector with a pass-thru to a widescreen monitor. The final booth setup was nice, as you can see in the photo to the right.
While in previous years we had a good number of people supporting Haiku's presence at this show (photos from SCaLE 2007 and SCaLE 2008), this year I ended up doing the show alone. This was not ideal but it worked out well anyway; it did, however, make things a bit difficult. For one thing, there were times when I could not respond to everyone coming to the booth, so there were probably some lost opportunities there. Also, being tied to the booth the whole time does not leave any time to approach any of the media reps that are usually attending the conference; this is something that always like to do, and that in many occasions leads to post-event coverage. Needless to say, doing booth duty non-stop is a bit tough on my old body too; I think this is the first time it took me more than three hours to finish eating the sandwich that I had bought in advance during breakfast for my lunch. Anyway, in spite of a few aches here and there, I survived. :)
Turnout at the booth was quite good on both Saturday and Sunday; Sunday morning started slow, but that is to be expected (people sleeping off their hangovers?), and traffic did pick up later on the day. I got the usual dose of people that were familiar with BeOS and that were happy to see Haiku was still moving forward. There were also those who did not Haiku and may have heard about BeOS but had never seen or used it; this audience is more challenging, but when they come to the booth with an open mind (which for the most part, they do), they usually leave with a good impression from the OS or at the very least intrigued by the unique things that make Haiku such a nice system to use.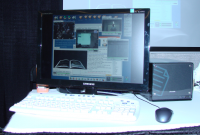 While at moments I could not handle all the booth traffic, in several occasions during the show I was able to spend some time doing a hands-on demo to small groups, showing them some of the unique aspects of Haiku, including but not limited to responsiveness, multithreadedness (via ProcessController), short boot/shutdown times, fast application startup, live queries, data translators, etc. Thanks to my new demo PC being well supported by Haiku and to the help of David McPaul who advised me on how to prepare the demo machine, I was able to show Haiku's responsiveness and media capabilities in its best light, smoothly running 6 - 7 videos at the same time - both AVIs and MP4s - using the native MediaPlayer, while stressing the system by running the Teapot and other applications. When I told my little secret to the people watching that the video was running in VESA mode, that did draw some wows from the crowd. :) Overall, Haiku behaved quite well on my new demo machine, and it KDLed only a few times during the two days, which is quite impressive for both the abuse that it received and considering that it is still pre-alpha software.
Everyone visiting your booth is important, but there are a few individuals that are worth mentioning this time. First, a Linux & Open Source Strategist from Intel's Open Source Technology center visited the booth and showed interest about Haiku in the context of their Moblin project; we spoke briefly, and he said he would let us know if he found any opportunities for Intel and Haiku. Ryan Paul, writer for arsTechnica, also visited the Haiku booth; Ryan, who has written about Haiku in the past, is an avid follower of Haiku and is keeping a keen eye on the progress being made. I also made good friends with a couple of guys from the KDE booth. One of them, Ian, lent me a hand on Friday to setup the projector screen on the backwall of the booth. Ian was familiar with BeOS and happy to see Haiku running so well; just for kicks, we tried my Haiku USB thumb drive on one of their Atom-based machines, and not only did it boot, but it run quite well even in VESA mode. Pau Garcia-Mila, one of the cofounders of the eyeOS project, also visited the booth; We spoke both about Haiku -- which he knew Haiku very well -- as well as about his project, and while he was at the booth, we run eyeOS in Firefox under Haiku; theirs is a neat project, so check it out. Towards the end of the show I also had a chance to chat with Guillermo of the KDE project, who expressed interest in doing driver development for Haiku; that would be really nice Guillermo!
In summary, SCaLE was a fun place to be; hopefully my presence also helped — even if in a small way — continue the never-ending process of raising awareness about the project and communicating the advances made to a wider audience. When I compare this year to our first appearance at SCaLE in 2007, I can't help but notice a great difference in both awareness and understanding of Haiku, so I think these efforts are worth making. A little company would be nice to have, though... :)
Postcript: I forgot to mention that I sold two t-shirts and was able to raise the amazing amount of $50! I lost the donation box key, so that money is still "trapped" inside the box. Once I get it out somehow, this will go to the project's coffers. :)