Details of Haiku Presence at SCaLE 5x
We finally have the specific details regarding the activities planned by the Haiku Project at the SCaLE 5x Conference. It's going to be two days filled with action, including an exhibit booth with a projector demonstrating Haiku, and two Birds of a Feather (BOF) presentations.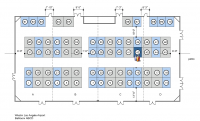 Haiku Exhibit
We will be at booth #42. We are planning on having a projector running Haiku on a backwall screen, and a couple of hands-on PCs so that visitors can actually play with Haiku. Project leader Michael Phipps along with Haiku developers Axel Dörfler and Bruno G. Albuquerque will be available on-site. Feel free to stop by to find out about the project or to discuss technical details of Haiku. We look forward to seeing everyone!
BoF Presentations
February 10 (Sat), 8:00PM
Title: Introducing Haiku
Description: This is an introduction to Haiku, an open source operating system designed from the ground up for the desktop, inspired by the concepts and technologies of BeOS. The presentation will cover the concepts and features