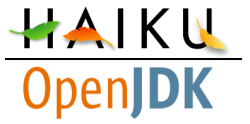 We are very excited to announce the creation of a new project team that will bring Java technologies to the Haiku. This team was established under the initiative of Haiku developer and team lead Bryan Varner, and is officially endorsed by the Haiku development team. In fact, discussions have taken place between Bryan and the rest of the core Haiku developers to start building synergy to ensure the viability of the Java Team's goals within the Haiku project.
The team's initial goal will be to port OpenJDK to Haiku. We want to have the Haiku port included within the structure of Sun's OpenJDK project, and discussions have been taking place with members of t he OpenJDK Porters Group to pursue this objective. After a meeting between Bryan, the Haiku core developers and Dalibor Topic, member and moderator of the Porters Group discussion list, we submitted a proposal in order to find a sponsor member within the Porters Group to make the official proposal to the OpenJDK project as a whole. OpenJDK Groups have two weeks to vote on sponsorship of this proposal. A majority vote is required from one group for approval.
The Java Team will be initially comprised of many existing Haiku developers who've expressed an interest in helping Bryan Varner and Andrew Bachmann, both of whom worked together in the past on the port of Java to BeOS under the BeUnited umbrella. The past experience with the BeOS port, plus the fact that other Haiku developers have also expressed their desire to help out with the port peripherally, puts this initiative in a great position to achieve its goals.
If you are developer with experience in C/C++, Java, JNI, Virtual Machines, or know a little bit about some of those topics and want to learn a whole lot more by throwing yourself under the bus, we invite you to be a part of our effort. Contact us so that we can discuss how you can help us bring Java technologies to the Haiku platform. This project is an excellent learning opportunity for students!
Related links