Haiku to Exhibit at LinuxWorld 2008 in San Francisco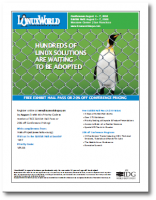 LinuxWorld Expo 2008 Free Pass (850KB PDF)In February of 2007 Haiku exhibited at SCaLE 05, making its first appearance ever at an open source conference. Since then, Haiku has made appearances in many open source events worldwide. One big event that we have been targeting since last year was the LinuxWorld Expo; unfortunately, both this and last year we were unable to get a spot in the .Org pavilion. Fortunately, that's about to change. After some perseverance, creative thinking and thanks the good will of IDG World Expo (the organizers of LinuxWorld) and the ReactOS project (with whom we will be sharing the booth), we are excited to announce that we were able to obtain an exhibit spot at the LinuxWorld Expo 2008 to be held next month in the San Francisco Moscone Center.
We have secured a full-sized 10x10 spot (booth #1617), where we plan to showcase Haiku for the full duration of the expo, that is, August 5, 6 and 7. Our plan is to demo Haiku on two or more PCs, one of them hooked up to a projector which will display its image on a screen hanging from the booth backwall (like here). We will also hand out fliers and possibly a CD with a VMWare image, and sell Haiku t-shirts (if allowed) to raise funds for the project.
LinuxWorld has an average attendance of more than 10,000 people. This is many times more compared to the conferences that we have been attending in the past. Exhibitors include big names like IBM, ORACLE, ACCESS, CISCO, Fujitsu and Canonical, along with well-known open source projects like Fedora, Drupal, FreeBSD and Gentoo among others. Of course, the media is expected to cover the event, so the opportunities for coverage will potentially also be there. All in all, LinuxWorld offers us a great opportunity for very high-profile exposure, which makes it all the more exciting.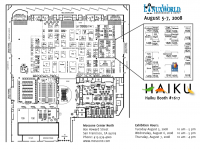 LinuxWorld 2008 Floor PlanLast but not least, we can use some help manning the booth. If you would like to join us at LinuxWorld, please contact Urias McCullough (login required) so that we can register you for an exhibitor badge.
Update: If you are planning on attending LinuxWorld, please use the Haiku priority code "VPL56" to get a free exhibit hall pass ($50 value), access to the BoF sessions, 20% off the conference programs and more. Download this flyer for all details (850KB PDF).
LinuxWorld 2008 Overview
Location: Moscone Center, San Francisco
Conference: August 4, 5, 6 and 7
Exposition: August 5, 6 and 7
Haiku Booth: #1617 -- see floor plan (4MB PDF)
Online Registration (Please use priority code "VPL56" for the FREE exhibit hall pass or 20% off conference prices)