Website in Read-Only Mode Due to Upgrade in Preparation For Alpha 1 Release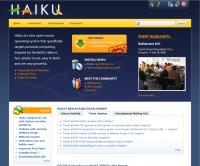 The redesigned Haiku website
In preparation for the upcoming Haiku R1 Alpha 1 release, we are working on a Drupal upgrade and a redesign of the Haiku website. As a result, haiku-os.org is scheduled to operate in read-only mode from approximately September 9th at 17:00 through the 14th at 00:00AM (UTC). During this time, no major outages are expected and the website will be online for the most part, but the following operations will be disabled:
Creating new accounts
Editing existing accounts
Posting new content (to forums, blogs, documents, etc.)
Editing any existing content
Posting new comments or editing existing ones
The upgraded website is scheduled to be fully operational in time for the Alpha 1 release date. Until then, please use the mailing lists or our IRC channels as means of communication with the community. Our bug reporting tool https://dev.haiku-os.org is unaffected, and will continue to operate as usual.