The translation of this page isn't yet complete. Until it is, unfinished parts use the English original.
CodyCam
| | | |
| --- | --- | --- |
| Deskbar: | | |
| Localização: | | /boot/system/apps/CodyCam |
| Definições: | | ~/config/settings/codycam |
CodyCam lets you take pictures at a specified interval from a connected webcam or any other video-in device and save them via FTP.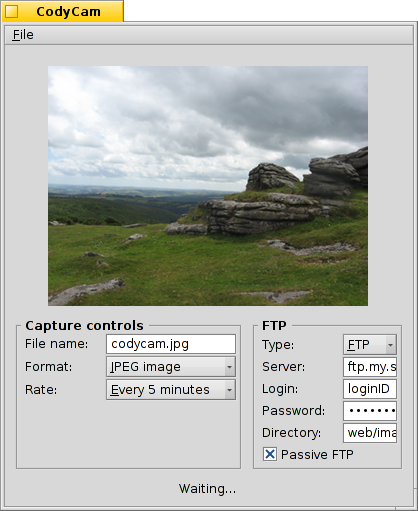 À esquerda por baixo da pré-visualização, define o nome do ficheiro ao qual será acrescentado um sufixo numérico que aumenta a cada fotografia tirada. Em baixo escolhe o formato do ficheiro e a cadência com que as fotografias são tiradas.
À direita pode optar por FTP ou sFTP (caso esteja disponível SSH) e introduzir os dados necessários para guardar as imagens num servidor.