Accepted Students
Five students to be mentored by Haiku in Google Summer of Code 2012!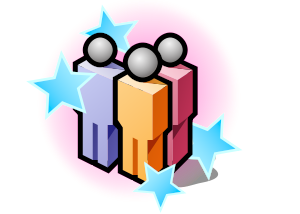 For this year's Google Summer of Code™ program, we at Haiku have been allocated five students! In 2012, 406 mentoring organizatins applied and 4258 students submitted 6685 proposals. Haiku is proud to be one of the 180 accepted mentoring organizations, with five accepted students.
Over the years, Haiku's goals for Google Summer of Code have evolved. Originally the ability to evaluate the students' capabilities was lacking and the attention was simply on choosing projects that filled a need. Now, the emphasis is placed on choosing the best students, as they are more important than their short term code contributions. During the application process, those students instilled a sense of hope and confidence in Haiku's mentors that they will mature into full project contributors. In other words, this is our opportunity to grow and refine young, intelligent, and highly motivated students into people who will continue to develop Haiku in the years to come.
For the past three years, students applying to Haiku were (at first encouraged and later) required to submit a code contribution. By requiring potential students to submit a code contribution during the application period, Haiku's mentors achieve several things. First and foremost, it shows that each student possesses basic skills that many of us take for granted -- using a bug tracker and compiling Haiku's sources. More importantly, it provides our mentors with some insight into each individual student's motivation and abilities. This year a total of 17 patches were submitted during the application period. 13 of which were submitted by our top 5 selected students!
Accepted Students
Yongcong Du
Mentor: Fredrik Holmqvist
Project: add cpuidle support
Pawel Dziepak
Mentor: François Revol
Project: NFSv4 client
Andreas Henriksson
Mentor: Axel Dörfler
Project: BFS Partition Resizer
Hamish Morrison
Mentor: Andrew Bachmann
Project: OpenJDK port
Alex Smith
Mentor: Ingo Weinhold
Project: x86_64 port
Additional Mentors
It is worth noting that Haiku has moved past the "one mentor per student mentality". In addition to the primary mentors listed above, the following people are part of a pool of mentors. The mentor pool is available to all students, as a supplement to their officially listed mentors. This improves the so-called Bus Factor, by enabling other interested and knowledgeable people to participate in the students' daily activities.
Bruno Albuquerque
Stephan Aßmus
Adrien Destuges
Alexander von Gluck
Rene Gollent
Scott McCreary
Urias McCullough
Joseph R. Prostko
Oliver Ruiz Dorantes
Philippe Saint-Pierre
Niels Sascha Reedijk
John Scipione
Alex Wilson
Clemens Zeidler
Siarzhuk Zharski
In closing ...
Thank you to all who have and continue to take the time to make Haiku's participation in Google Summer of Code a successful adventure. This includes Google for sponsoring Summer of Code; its program administrators Carol Smith, Cat Allman, Chris DiBona, & Ellen Ko; the Melange developers and contributors; and of course Haiku's Mentors. If any student would like feedback regarding your proposal and suggestions for next year, feel free to contact (Matthew Madia).