La traduzion di cheste pagjine no je ancjemò finide. Spietant che lu sedi, pes parts che no son finidis, dopre la version origjinâl par Inglês.
VisôrAtivitâts
| | | |
| --- | --- | --- |
| Deskbar: | | |
| Posizion: | | /boot/system/apps/ActivityMonitor |
| Impostazions: | | ~/config/settings/ActivityMonitor settings |
Tu puedis tignî di voli lis risorsis di sisteme inviant il VisôrAtivitâts e ativant i varis elements che ti interessin.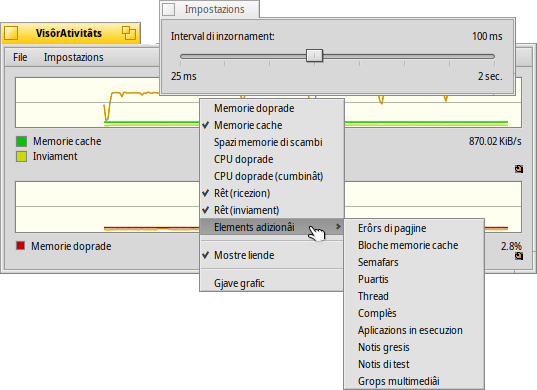 By right-clicking into the window, you can toggle the display of all kinds of resources:
Used/Cached memory, Swap space, CPU speed/usage, Network receive/send, and even more technical info under Additional items.
Sot dal grafic e je une liende (che si pues platâ dal menù contestuâl). Tu puedis cambiâ i colôrs e chel dal fonts dal grafic strissinant e molant il colôr di cualsisei seletôr di colôrs, p.e. di Icon-O-Matic.
Tu puedis zontâ plui viodudis dal menù File se si jemple masse.
Il menù Impostazions al vierç un panel par stabilî la dade di timp pal inzornament, che in pratiche e je trop svelt che il grafic al à di scori. Tu puedis ancje doprâ la rudiele dal mouse sul grafic par cambiâ in maniere temporanie la velocitât.
Ogni viodude e à la sô mantie pal Replicant e duncje e pues jessi fissade, par esempli, sul Scritori.