La traduction de cette page n'est pas achevée. Les parties non encore traduites apparaîtrons en anglais.
VirtualMemory (Mémoire virtuelle)
Deskbar :
Localisation :

/boot/system/preferences/VirtualMemory

Réglages :

~/config/settings/kernel/drivers/virtual_memory




~/config/settings/VM_data

- Enregistre la position du panneau de préférences.
La mémoire virtuelle permet au système de placer une partie de l'espace mémoire des applications sur le disque dur, si la RAM peut être utilisée pour d'autres tâches plus utiles. Même si vous avez beaucoup de RAM, activer la mémoire virtuelle n'est jamais une mauvaise idée.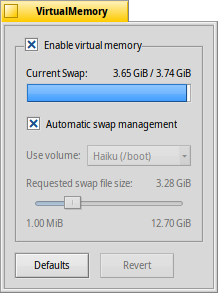 Normally, the swap file is written to the boot partition. If you're running low on free memory there, you can deactivate the Automatic swap management and choose another mounted partition from the popup menu. The swap file size is set with the slider below.
If you often run into disk thrashing due to the virtual memory system swapping memory in and out, you can try to use a separate harddisk for you swap file to avoid I/O congestion. Simply another partition on the same harddisk with your system/data won't help. Upgrading your RAM is of course the most effective way to go...
| | | |
| --- | --- | --- |
| |   | réinitialise toutes les réglages. |
| |   | rétablit les réglages qui étaient actifs quand vous avez démarré les préférences VirtualMemory. |