After our first report, Michael's stuff finally arrived and we were able to set up Haiku on a projector screen, which actually helped bring more attention to our booth. The impression that I have been getting from the people visiting our booth is that the reception of our ideal of a desktop OS designed for, focused on, and optimized for the desktop is very positive. It has been a very encouraging experience so far.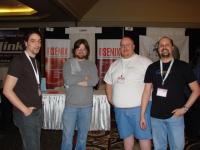 We were also extremely pleased to have the presence of Travis Geiselbrecht, the creator of NewOS, who showed up at our booth in the afternoon. Not only did we spend quality time with Travis discussing Haiku and our kernel (which is based on NewOS), but we also had dinner together where we exchanged plenty of stories from the good old days.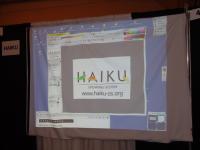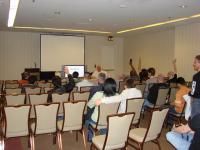 We also had our first Birds of a Feather session in the evening, where Michael Phipps introduced Haiku to an audience of approximately twenty people. All the attendants showed great interested in our work, as evidenced by the good number of interesting questions during the Q&A session towards the end of the presentation. In my opinion, the presentation was a success, as it both introduced Haiku to those who did not know about our project, and it also helped show the progress made to those who already knew about it.
Enjoy a few more pictures for your viewing pleasure.