Day 3 at LinuxWorld - Filled With Excitement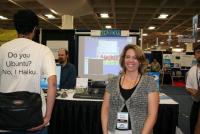 Amy Bonner @ Haiku Booth
BeOS fan and user, Pete Goodeve, joined us again briefly. This time we took the opportunity to get a picture with him. Unfortunately it came out a little bit fuzzy, but not too bad (sorry about that!).
The highlight of the day was a brief, but exciting visit from Jean-Louis Gassée! I caught him standing behind me while I was giving a demo, which caused me to pause in disbelief for a few seconds while my brain processed the familiar face. I quickly finished up a demo, and we grabbed the camera for a couple of quick pictures with JLG. Before he left, he gave us several words of encouragement and seemed genuinely impressed with the progress that had been made, an assurance that we've definitely got something great going on here. It's interesting that when he showed up, I actually had the Haiku Google Tech Talk video playing in Haiku on the big screen which he found quite amusing as it showed him talking to the audience. We greatly appreciate that he took time out of his day to stop by and show his support for our project!
Wrapping up
The exhibit hall closed at 4:00PM on the last day. By this time, I was pretty tired and burned out from the week. The immediate flurry of workers that showed up and started tearing out carpet and bringing down booths sort of inspired a sense of urgency to pack up and get out as quickly as possible. We quickly but carefully took down all our signage and equipment, packing it back into the bags and containers we brought with us. Lugging all the equipment back up the escalators was tricky, and it took two trips to get it up there. Once all the equipment was waiting out front, I went to get the car from the parking garage.
Once everything was packed up, we set off to drop Art at his place before making our way back to my sisters' apartment so that Scott could pick up his car and head home. The drive to Art's proved interesting, as it was by that time rush-hour traffic in the city. I think we only ran one red light though :) (really, I'm not a horrible driver, but city driving is still something I'm not terribly experienced at)
I set off for home around 7:45PM after eating dinner and saying goodbye to my sisters, arriving home around 10:45PM. At this point, I was exhausted and needed to get up early the next morning for a trip to our county fair with my family, so I went to bed after briefly chatting on IRC with a couple people.
All in all, I think Haiku's presence at LinuxWorld 2008 was extremely successful. The excitement we experienced from our visitors was gratifying, and I think we had some interesting discussions with corporate representatives that could even have been the germination of future sponsorship. Only time will tell. I have a small stack of business cards that I need to go through and followup with emails over the next week or so.
In my opinion, it was well worth the time and money spent by Scott, Jorge, myself, and Haiku, Inc. I'd like to personally thank Jorge and Scott for their help, as we couldn't have setup such a successful event without their assistance. I'd also like to personally thank Art Yerkes from ReactOS, and Amy Bonner for cooperating with us to come up with a collaborative and "creative funding" method of acquiring the booth space.
We brought with us a small donation box, explaining that Haiku is a 501(c)(3) and a volunteer effort funded by donations. We collected over $150 in donations from visitors during the 3 day expo.
We have uploaded a selection of photos from the show on our Haiku Picasa Web Album