La traduzione di questa pagina non è stata ancora completata. Finché non lo sarà, le parti non tradotte saranno visualizzate in inglese.
WebPositive
Deskbar:
Percorso:

/boot/system/apps/WebPositive

Impostazioni:

~/config/settings/WebPositive/

- File di configurazione, cookie, cache e cronologia di navigazione

~/config/settings/WebPositive/Bookmarks

- Tutti i segnalibri, ognuno in un file
WebPositive, o più brevemente Web+, è il browser nativo di Haiku. Una parte del suo nome è un omaggio al browser del BeOS, NetPositive, l'altra indica la sua base moderna: il WebKit. Questa libreria di rendering HTML è alla base di browser ben conosciuti, come Safari, browser del Mac OS X, e il browser di Google, Chrome. Grazie all'uso di WebKit, libreria in evoluzione continua, Web+ sarà capace di essere sempre pronto alle nuove tecnologie del web.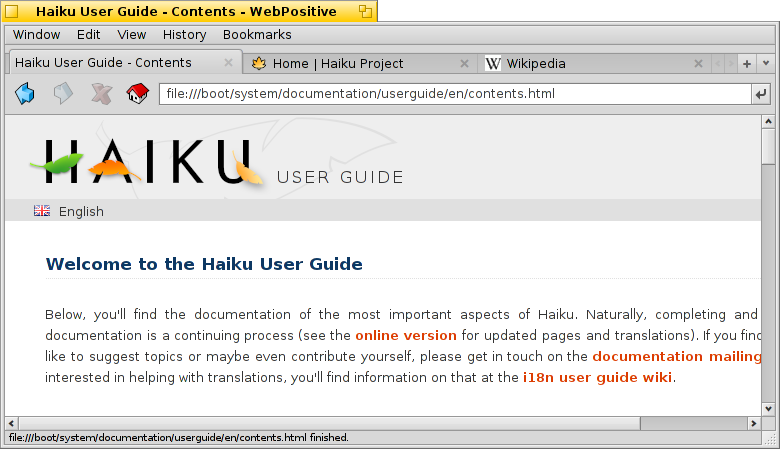 WebPositive's interface is pretty straight forward: Under a menu bar is another bar with buttons to navigate to the previous and next sites in your browsing history, to stop the loading of a page and (optionally) a button to jump to your starting page.
Then comes the locator field to enter a site's URL.
Below this navigating bar appear the webpages. You can open many pages in parallel by loading them into their own tab.
At the bottom of the window is a status bar, showing the URL of the site being loaded or of the link the mouse pointer is hovering over. While a page is being loaded, a progress bar appears to the right.
Impostazioni
From the Window menu you can open a Settings panel to configure a few essentials of WebPositive.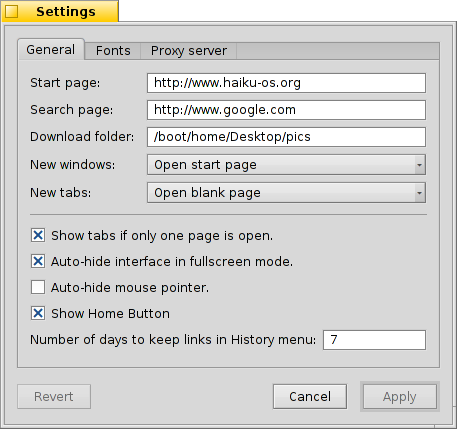 The first tab deals with general settings: What file or URL serves as a Start page, what's used as a Search page (if you set a Custom search engine, "%s" is used for the search term variable), what Download folder is used for stuff you get from the net.
Two pop-up menus let you decide what page to load - if any - when opening a new window or tab.
Via the following checkboxes you can avoid showing the tab bar when there's only one page open anyway. WebPositive's interface can be told to automatically hide in full screen mode, and the mouse pointer can be automatically hidden whenever it's not moved for a while.
Finally, you can decide to include the "Home" button in the navigation bar and set the number of days the browser remembers the sites you have visited in its history.
In the second tab you can choose the fonts used for standard, serif, non-serif and monospaced fonts and set their default sizes.
L'ultima tab viene usata per configurare un server proxy.
Browsing
If you have used any browser before, WebPositive shouldn't provide too many surprises. Instead of going through every menu item and feature, let's have a look at just a few points.
New tabs are created with the + button to the right in the tab bar or, if there's still enough space, by double-clicking into an empty area of it. If there are more tabs open than fit into the bar, the < > scroll-buttons become active, allowing you to scroll the tab bar left and right. The ∨ button to the far right hosts a pop-up menu with all open tabs for even quicker navigation.

Clicking on a link with the middle mouse button opens the page in a new tab in the background. Holding SHIFT while middle-clicking, opens it in the foreground.

From the View menu you can Zoom in and Zoom out of a page. There's also an option to Zoom text only, leaving all images with their original size.

If you switch to full screen mode and have activated the setting to hide the interface, it will disappear after a second. To slide it temporarily back in, simply move the mouse pointer to the top of the screen.

While you type in the locator text field, the browser matches the string to sites you have visited in the past and lists them below the text field. You either keep adding more letters to shorten the list of possible sites, or choose an entry with ↑ or ↓. ENTER will load the page. You can also use the button to the far right which also serves to reload a page.
Strings not recognized as URLs will get looked up with the search engine set in WebPositive's settings, so the locator field doubles as quick shortcut to web searches.

WebPositive supports quick shortcuts to direct search terms to different search engines. Just enter the one-letter-shortcut followed by your search term.

"g" for Google
"b" for Bing
"w" for Wikipedia
"d" for DuckDuckGo
"a" for Baiku
"y" for Yandex
"e" for Ecosia
"q" for Qwant

Right-clicking opens a context menu which, depending on the object you've clicked on, offers to open the link in a new window or a new tab, download the object etc.

Edit | Find shows a find bar at the bottom to start an in-page search. Matches are highlighted in the page.
Segnalibri
WebPositive's bookmarks are managed as files and folders in ~/config/settings/WebPositive/Bookmarks/. Adding a bookmark will create a new file there. You can quickly open the folder with Manage Bookmarks....

You can change a bookmark's URL, name, title and enter keywords just like with any other file with attributes. Just make sure you have all their columns displayed via Tracker's Attributes menu, then select a file, press ALT E and start editing the attribute; change attribute columns with TAB.
You can sort bookmarks into different folders you create yourself.
By using Tracker to manage and navigate bookmarks you can lift its unique features to quickly find what you're looking for.
Activating Type-ahead filtering in Tracker's preferences, you can instantly trim down your list of bookmarks to matches of your filter-string. A few more ↑ or ↓ to move the selection and pressing ENTER opens the site. Make sure to display all attribute columns to have the filter applied to name, title, URL and keywords.
For this to work, all bookmarks should be kept in the ~/config/settings/WebPositive/Bookmarks/ folder and only copies should be sorted into custom subfolders for usage in WebPositive's Bookmarks menu (if at all). Also, actually filling the keywords attribute helps...
File scaricati
Finestra | Download apre una finestra con tutti i trasferimenti completati e quelli in corso: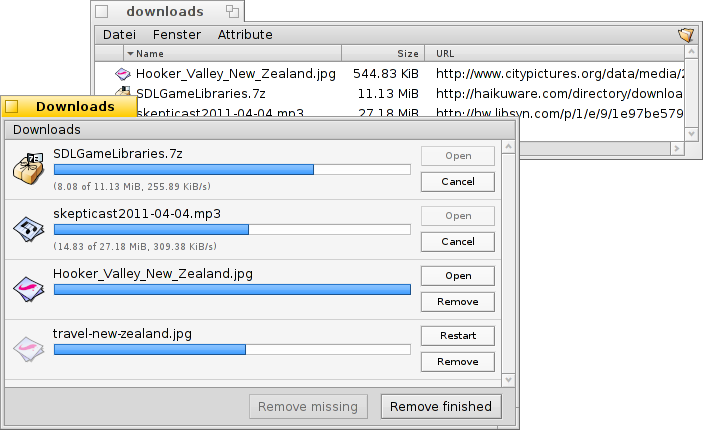 Currently downloading files are shown with a growing progress bar and, similar to copying files in Tracker, information on the download speed, file size and expected finishing time. Buttons to the right let you Cancel and Restart a download, or Open the file, or Remove its entry from the list. The Remove missing and Remove finished buttons at the bottom do this for all entries in this list. "Missing" are files that were deleted in the meantime.
Moving a file that is currently being downloaded to Trash will stop the download. You'll also notice, that its icon becomes "ghosted".
Generally, WebPositive is very tolerant when it comes to managing files with Tracker. Files can be renamed or moved even while they are being downloaded and even after the download is finished, these changes are reflected in the Downloads window.
Ever wondered from what site you downloaded a particular package, image or any other file? You can track that down by opening the file with DiskProbe and have a look at its META:url attribute.
Want to have the URL permanently shown in your downloads folder? Just copy a bookmark into it, have the bookmark's URL attribute column displayed and remove the bookmark again.
Scorciatoie da tastiera
Qui di seguito alcune utili scorciatoie da tastiera:
ALT

T

Apre una nuova tab.

ALT

W

Chiude la tab corrente.

ALT

N

Apre una nuova finestra

SHIFT

ALT

W

Chiude la finestra corrente.

ALT

INVIO

Entra/Esci dalla modalità a tutto schermo.

ALT

R

or

F5

Ricarica la pagina corrente.

ALT

H

Apre la pagina iniziale.

ALT

D

Mostra/Nascondi la finestra dei Download.

ALT

F

Mostra la barra di ricerca per la ricerca in pagina (si nasconde con il tasto

ESC

).

ALT

B

Salva la pagina corrente nei segnalibri.

ALT

M

Gestisci i segnalibi, apri la cartella dei segnalibri.

ALT

←

Pagina precedente nella cronologia.

ALT

→

Pagina successiva nella cronologia.

ALT

+

/

-

Increases/decreases the size of the webpage's elements (same as

ALT

+ mouse wheel).